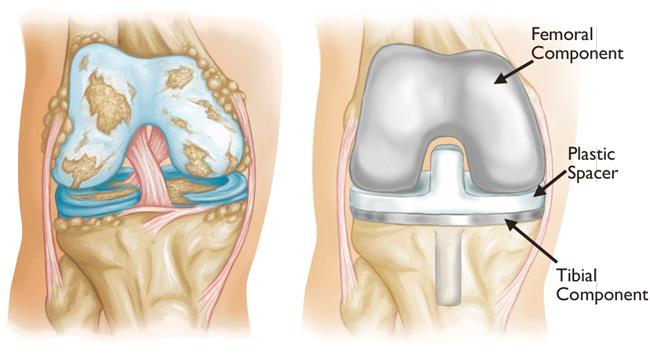 Your knee is the largest joint in your body, a complex structure with many parts, making it open to all kinds of injuries or tissue damage. If your knee is severely damaged by arthritis or injury, it may be hard for you to perform simple activities. If nonsurgical treatments like medications and using walking supports are no longer helpful, you may want to consider total knee replacement surgery.
Symptoms that it might be time for a knee replacement:
Your knee aches during and after exercise
You're no longer as mobile as you'd like to be
Your knee stiffens up from while sitting
You feel pain in rainy weather
The pain prevents you from sleeping
You feel a decrease in knee motion or the degree to which you're able to bend your knee
Your knees are stiff or swollen
You have difficulty walking or climbing stairs
Causes
Osteoarthritis: This type of arthritis is age-related, caused by the normal wear and tear of the knee joint. It mostly affects patients aged over 50 years, but younger people may have it.
Rheumatoid arthritis:This is called inflammatory arthritis, the membrane around the knee joint to become thick and inflamed.
Post-traumatic arthritis: This type of arthritis is due to a severe knee injury. When the bones around the knee break or the ligaments tear, this will affect the tissue of the knee.
Diagnosis
X-rays: To diagnose your condition, an orthopedic surgeon will perform a thorough examination of your knee. X-rays of your knee joint will indicate any change in size or shape or any unusual circumstances.
Knee Replacement Procedures
Total knee replacement (TKR): Surgery involves the replacement of both sides of the knee joint. The surgery lasts between 1 and 3 hours. The individual will have less pain and better mobility.
Partial knee replacement (PKR): Partial replacement replaces only one side of the knee joint. Less bone is removed, so the incision is smaller. The hospital stay and recovery period are normally shorter, and there is a higher chance of more natural movement.