In today's world, when joint replacements are being performed on many young patients, it has become necessary to include "return to office or work" as part of recovery. For the patients, usually in their 30s, 40s, and 50s, the goal to return to work in a timely manner is of utmost importance.
There is a great emphasis on young patients getting a quick recovery before their sick leave is over because they can lose a lot of potential income, or even lose their jobs altogether.
They generally have one question in their mind "when can I expect to go to the office after my total knee replacement surgery". So, in this blog, I will help you better understand how long you'll need to resume your work. Let's begin!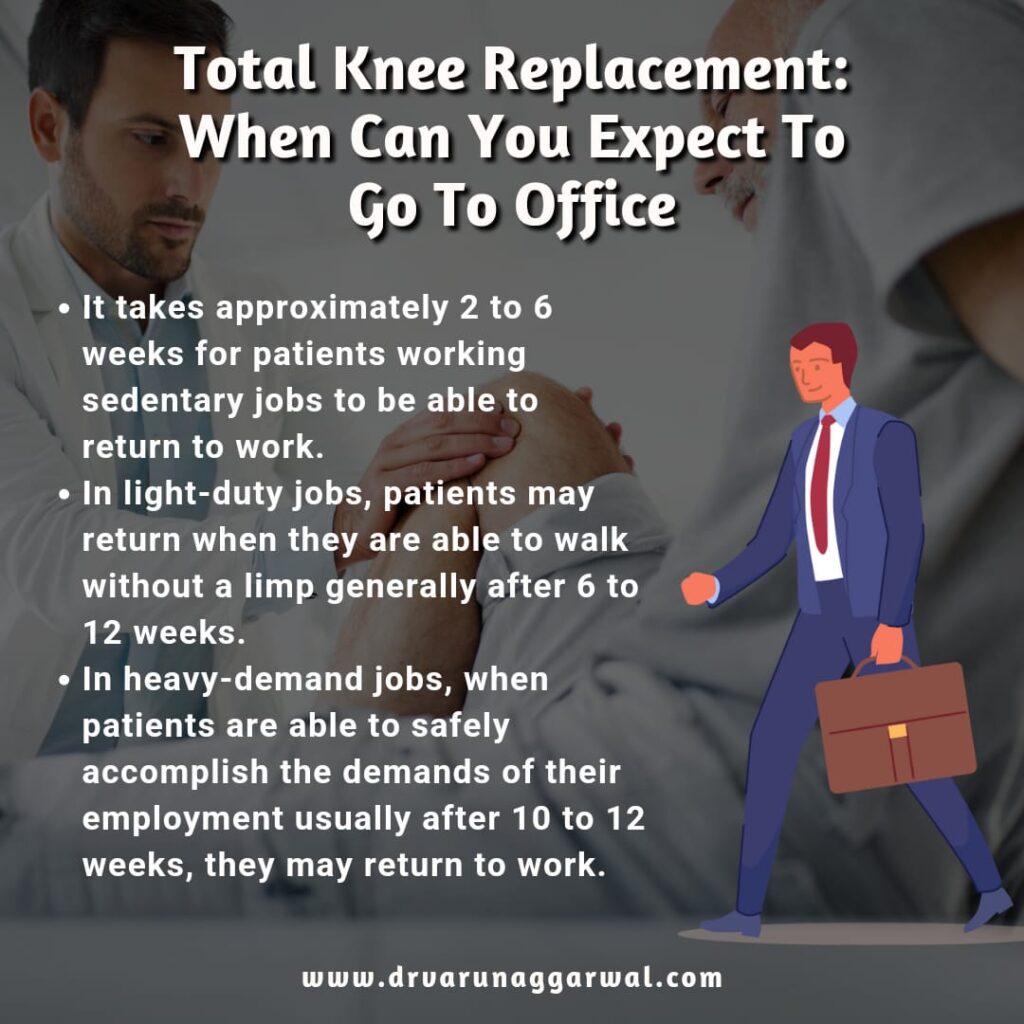 When Can I Expect To Go To Work After Knee Replacement?
It is a common question these days. The answer varies not only based on the speed at which your body heals, but also on the job's requirements.
It takes approximately 2 to 6 weeks for patients working sedentary jobs to be able to return to work when they are able to safely travel to and from their job.
In light-duty jobs, patients may return when they are able to walk without a limp generally after 6 to 12 weeks.
In heavy-demand jobs, when patients are able to safely accomplish the demands of their employment usually after 10 to 12 weeks, they may return to work.
According to one study, those who return to work within one month of surgery are likely to experience higher pain and functional limitations than people who wait longer. It's interesting to note that the period by which people returned to work is not always related to age.
The study verified that the patient's unique employment requirements affected when they may return to work. Business, financial, and administrative professionals were at least twice as likely to return to work sooner than patients who had more physically demanding jobs.
This study also discovered that the constraints people faced at work weren't just physical, but also affected their ability to concentrate, complete tasks, and get to and from work.
When is It Safe to Return to Work?
The best person who knows about your work is you. If you think that your pain is under control and you believe that you can do your work without any problem, you can definitely go back to work. Once you stop using narcotic painkillers during the day, you will be able to drive again and are likely to return to a more regular, daily schedule.
By six weeks after your surgery, you should be able to better manage your pain, your swelling should decrease, you should be more mobile, sleep better at night, and have time to recover mentally and emotionally. In other words, it's probably safe to start thinking about work again once you start feeling like "your old self".
Tips for Getting Back to Work
Practice Your Work Routine Week Before Returning To Job
Begin living your workday routine a week before returning to work. After surgery, you may have changed your routine and daily habits, so you should try to get up on time for work, go to bed on time, eat lunch regularly, etc.
Keep An Ice Pack With Water and Rubbing alcohol
Keep an ice pack along with water and rubbing alcohol in work's freezer. If you work at a desk all day, elevate (with a foam wedge) and ice a few times during the day to avoid pain and promote healing.
Do Light Workouts During Work
You can perform many of the common flexion and strengthening exercises while sitting at your workstation. Even if you work outside of the office, taking a few minutes to do some simple exercises is an effective mental break, and it will help you in staying on track with your recovery goals.
Click here to contact for more information