It is common for humans to get orthopaedic problems with increasing age. In older adults, knee and hip pain is the primary reason for consulting an orthopaedic surgeon. If you are suffering from hip pain and you have tried everything but the condition is getting worse, total hip replacement might be the best option for you.
You have to plan multiple things before having a total knee replacement surgery which also includes choosing the right surgeon. The surgeon will determine where your surgical incision will be made, how large it will be, and what type of artificial hip will be implanted. The surgeon may also influence aspects of your recovery, such as the location of your physical therapy sessions.
Therefore, if you or any of your loved ones are thinking about getting a hip replacement, they should carefully choose their surgeon. So, in this blog, I will help you in deciding the right surgeon for a hip replacement surgery. Let's Begin!
Methods To Choose The Right Surgeon For Total Hip Replacement
You can follow the below tips before choosing a surgeon for your hip replacement-
Verify Medical Background
It's likely that if you've decided to have surgery, you already have a doctor in mind, whether it's a general practitioner, your family physician, or a nearby orthopaedic specialist. However, you must be sure that your doctor has sufficient medical qualifications to carry out your procedure. A highly qualified orthopaedic surgeon performs hip replacements, so, you should get in touch with a qualified orthopaedic physician in your area.
Check Surgical Credentials
The surgical credentials are another factor to take into account when choosing a surgeon for total hip replacement surgery. The majority of orthopaedic surgeons are skilled in open joint procedures, but to conduct minimally invasive or arthroscopic joint replacement surgery, they must complete additional training and obtain specialised certification. Arthroscopic joint replacement surgery helps in a significantly faster return to joint function and has a shorter recovery period.
Check The Surgeon's Experience
Experience is an excellent metric to assess skill. An experienced surgeon who has performed successful hip replacement procedures will be more likely to give you a faultless surgical experience than a surgeon with less experience.
Many studies suggest that selecting an experienced surgeon boosts the possibility of a successful hip replacement procedure.
A study that examined information from over 20k operations concluded that:
More experienced surgeons had a 50% lower chance of performing a second hip replacement (revision) surgery within the first six months.
If a surgeon performs more than 50 hip replacements per year, revision surgery is required only 0.7% of the time.
When the procedure was carried out by surgeons who perform 6 to 25 hip replacements annually, it is required only 1.3% of the time.
Therefore, always check the experience level of a surgeon to determine if he is the right surgeon for your hip replacement.
Check Insurance Regulations
A hip replacement is a costly treatment, especially when physiotherapy is required. Therefore, having health insurance can greatly help to lessen the financial strain of getting treatment. Ensure that the hospital and orthopaedic specialist you choose are insurance-friendly.
Details About the hospital
Once you have detailed information about the surgeon's qualifications and experience, you should assess the hospital where they practice. The inspection includes a look at the hospital's technology, instrumentation, infrastructure, well-equipped operating rooms, etc.
Check The Reviews Left By Their Clients
Reviews are a great tool for assessing a physician's skills before proceeding with hip surgery. Look for patients who have had surgery by the surgeon you are considering. Ask them about their experiences with that surgeon. Patients' perceptions of a doctor's skill level are always indicative of the doctor's ability.
Ensure You Fully Understand Hip Replacement Surgery.
Do not be afraid to ask your surgeon any questions. If you have any questions, a good surgeon will answer them without any hesitation. You can inquire about the following with your orthopaedic surgeon:
In addition to physical recovery, psychological recovery is an important aspect of hip replacement surgery. Therefore, it is crucial that you are psychologically ready for the surgery and its results.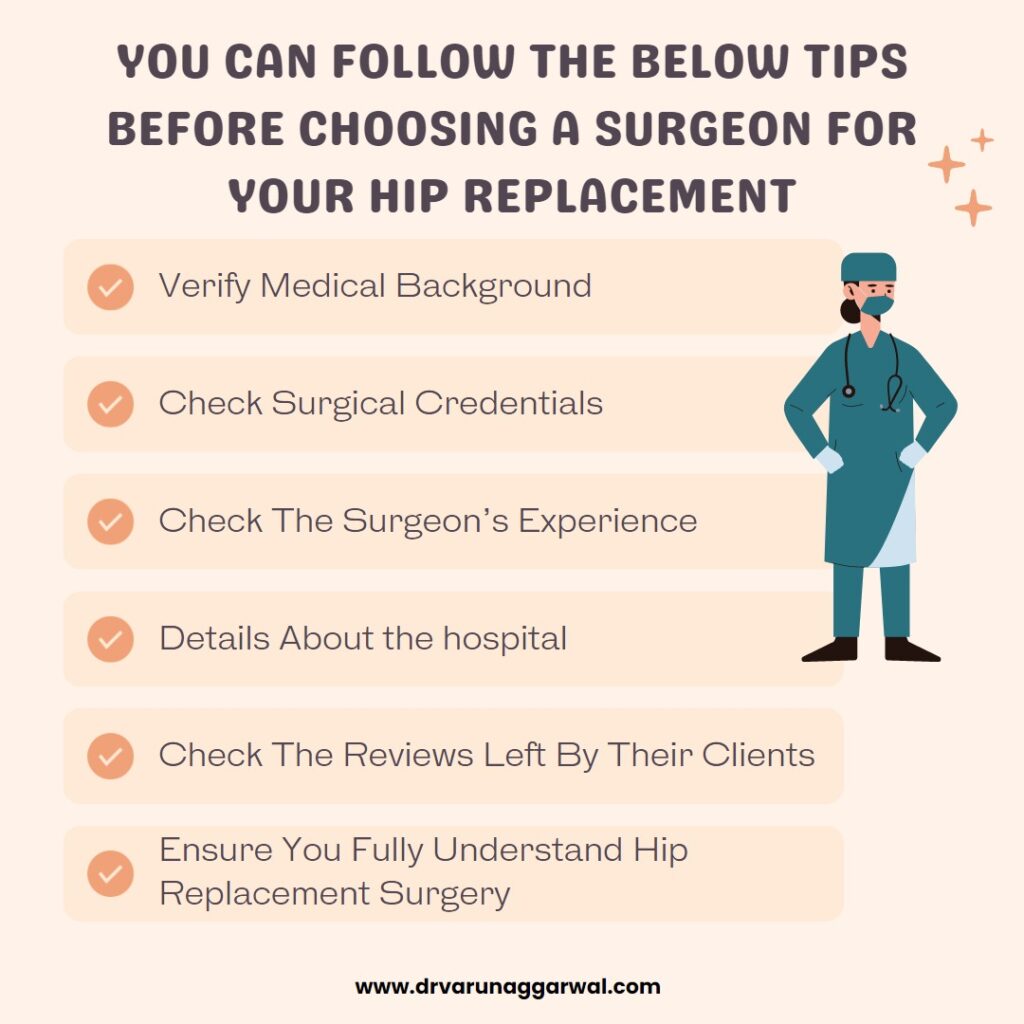 Click here to contact for more information